Kim Kardashian says North West is a mini-Kanye West
It sounds like we will have a second Kanye West after all. According to Kim Kardashian, North West is a lot like her father.
That's right, theres another Kanye West in the works — his daughter North West. In an interview with Ellen Degeneres, Kim Kardashian stated that North says the "same wild things" as Kanye.
Kim K talked about a lot in that interview, even holding back tears at certain points — as hard to believe as that is.
As for Saint West, their daughter, she's a spitting image of Kanye West. "She's really, really smart actually," said Kim Kardashian. "She knows how to outsmart us — or thinks she does. But she is Kanye's twin. Same personality, says the same wild things. Those two…" she continued.
She also mentioned how Saint West — Kanye and Kim's son — is just like her. "He's my twin," said Kardashian. "He's literally my twin personality. He's so sweet. And he's just such a good good boy. Just such a good person."
As for Saint and North, they don't always get along. Apparently North tends to get a little jealous of her younger brother. Here's a story Kim K shared with Ellen:
North just beats him up all day long… she's just awful," Kardashian West said. "She is so jealous, and I thought it was a phase — it's not going away. She just says boys aren't allowed in her room. Like, when she's gone at school, I'm like, 'It's time let's go in her room! Do whatever you want — go crazy!' "
If you ask me, that makes for one interesting household. You're telling me we have another Kanye and another Kim on the way — sounds good to me!
Also during the interview, Kim K touched base on Kanye's upcoming 40th birthday and the robbery that happened in Paris. We've all seen the lengths Kanye goes to for Kim's birthday, so what does she have in store for him?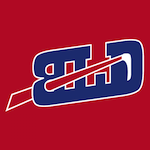 "He does the most amazing, romantic, over-the-top, crazy, wild things that you would never even imagine for me. So the pressure is so on!," said Kardashian West. She added that she plans on doing something intimate, but nothing too big.
As for the robbery, she said that the incident has not only made her stronger, but her family as well. Before the incident, Kardashian was always showing off her jewelry and material things, but now she's a bit more low-key.
Here's more on what she had to say:
"It was probably no secret, you see it on the show me being flashy, but I was definitely materialistic before," Kardashian West explained. "Not that there's anything bad about having things and working hard to get those things — and I'm really proud of everyone that's around me that's successful. But I'm so happy that my kids get this me. And that this is who is raising my kids. Because I just don't care about that stuff anymore, I really don't."
For a look at the full interview:
Do you think North West will grow up to be like Kanye? Leave your thoughts below!